Regular price
Sale price
¥40,000
Unit price
per
Sale
Sold out
Usually ships in 1-2 business days (excluding weekends and holidays)
この商品をシェア
View full details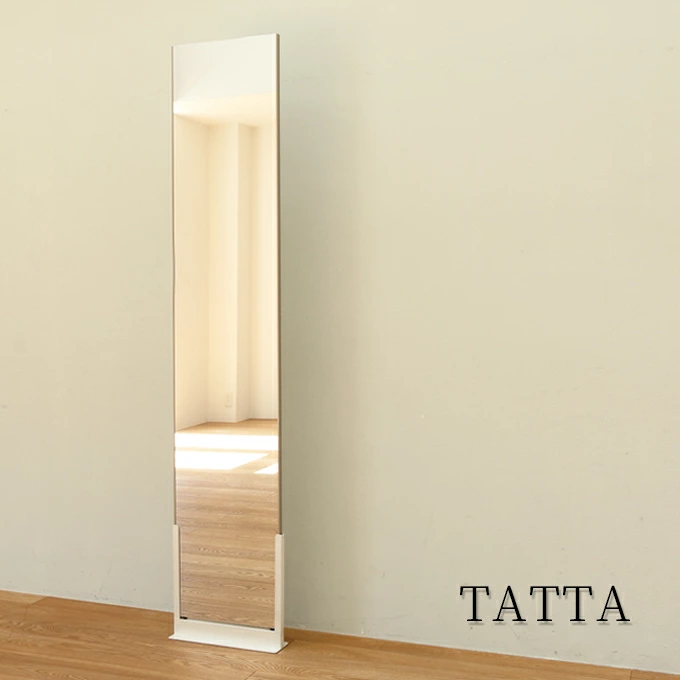 Does the mirror stand up?
Can be installed without walls
In this way, with the built-in shoe box,
You can use it freely without choosing a place even in environments where it is difficult to install a full-length mirror because there are few walls.
When you want to open the door, you can also move quickly.
There is no wall exactly where you want to put it.
Even in such a place, TATTA can be installed independently!
Only 2 cm ultra-thin mirror
The depth of the mirror part is only 2 cm, so you can install it smartly without feeling too much pressure.
3way specification that can be used as desired
TATTA's mirror can be removed from the stand!
By removing it, you can change the layout of your room, move house, etc.
It can be used flexibly even if the usage environment changes.
I usually put it on the stand and check my appearance before going out in the usual position.
If you remove it from the stand, you can quickly move it near the closet and use it.
Are there many people who are reluctant to bring shoes to their rooms?
In such a case , remove only the mirror and bring it to the entrance ,
You can also check the coordination with various shoes.
Also, take it to the place you want to shoot for photos to be posted on SNS,
You can also use
why is there a mirror? fine?
Even if there is a shock and it falls over, it will not break, so you can rest assured.
It prevents secondary disasters because it does not break and scatter even in a sudden earthquake.
Standing mirrors, which are commonly used as standing mirrors, are deep and take up a lot of space. If you install it on the wall, it certainly does not take up space, but it is not suitable for rental rooms because screws and thumbtacks will damage the wall.
We want to solve the problem of not being able to place the mirror where you want it.
I made this mirror with that in mind.
This is going to be a story in my friend's room, but since he moved to a newly built apartment, there is no full-length mirror, and he said that he was in trouble because he could not check his whole body without a full-length mirror. It seems that she has no choice but to put up with it in the bathroom mirror. The reason I don't buy it is because I can't put the full-length mirror where I want it in my new room.
The first choice for a place to put it is the entrance. The entrance had a storage shelf and a laundry space, and there was no wall. So, I rejected the entrance. Second choice is near the closet. This is also why there are no walls. As a result, I decided not to put a full-length mirror in the room.
So, I thought about it.
"Let's make a mirror wherever you want without taking up space."
However, it is difficult to make the mirror stand straight, although it looks easy. Long portrait. Exquisite balance is necessary to support only with this stand. I tried making various shapes, but it wasn't easy when it came to seeking "ultimate simplicity" and sticking to the shape.
To create a self-supporting stand, we worked with the president of the factory over and over again through trial and error.
It was finally completed.
Rather than making them mechanically, craftsmen carefully create each one by thinking about the customers who actually use them.
I want to deliver something neat.
A lot of thoughts of the creator are clogged up.
From such a thought, "Mirror TATTA anywhere" was completed.
"I want to put it, but I can't put it."
This is a must-have item for those who have concerns about their full-length mirrors.
Product Details
size

Width: 37cm
Depth: 10.5cm
Height: 186cm
Mirror part: 36×180.7cm

weight

Weight: about 7kg

Material

Mirror frame: Aluminum alumite coating Stand: Iron (powder coating)

Country of origin

Japan
Please check before ordering
postage

Free shipping on this item. Some areas require additional shipping charges.
*Additional charges may be incurred in some areas such as Hokkaido, Okinawa, and remote islands. Please contact us for an estimate.
*The additional shipping fee will not be automatically calculated at the time of ordering, so we will contact you by email after ordering.

deadline

If you have a desired date, please specify it in the remarks column when ordering.
Please contact us in advance if you are in a hurry.
*If you specify bank transfer, postal transfer, convenience store payment, or Pay-easy as your payment method, shipping will be arranged after payment is confirmed.
*Some items may be out of stock due to unavoidable circumstances. Please acknowledge it beforehand.