Regular price
Sale price
¥15,000
Unit price
per
Sale
Sold out
Usually ships in 4-5 business days (excluding weekends and holidays)
この商品をシェア
View full details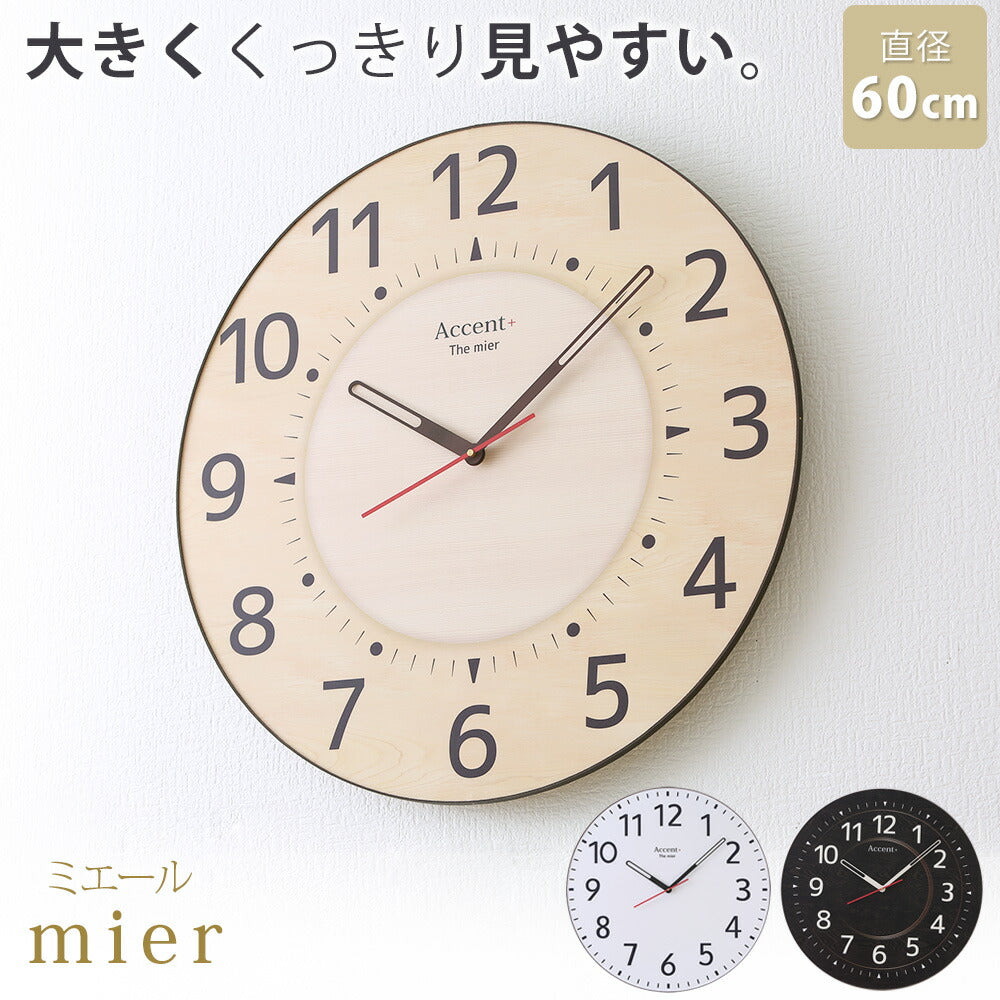 What I was particular about was "easy-to-read characters and scale" and "size of 60 cm in diameter".
Not only is it larger than other watches, but we also paid particular attention to the contrast between the dial and hands and the design of the numbers so that it is easy to see.
Each one is carefully handmade in Japan.
It is a watch that I would like to use for those who find it difficult to see with the current watch.


"mier mieru large clock" has three color variations.


Please choose your favorite type from 3 colors.


[Natural] The dial has a natural wood grain pattern, and the color does not feel oppressive, so it is easy to match with white walls.
The center part has a light color and is designed to give a three-dimensional effect. Suitable for Scandinavian interiors and Japanese-style rooms.

[Brown] Luxurious wood grain design like walnut.
The white numbers and hands are clear on the dark dial, making it easy to see.
A modern clock that looks great in rooms with wooden furniture or dark floors.

[Basic] The white dial is simple and clean. It is a design that emphasizes visibility without putting anything extra.
It is a design that is liked by people of all ages as a public clock such as offices and shops.





The hands do not click and move smoothly, so it is a quiet watch that does not bother you with noise.
Even if you hang it in the living room, you won't be bothered by it even in the quiet night. Also suitable for bedrooms.


The watch is covered with cowhide leather. It has a luxurious feel, and the design looks great when viewed from the side or from the bottom.
Although it is large, the thickness is slim and does not feel too oppressive, so you can decorate it neatly.



The numbers are large and clear, so even children can easily understand the time.
The simple design allows you to use it all the time without getting bored even when your child grows up.


A gift for your parents.
Because even elderly people with weak eyesight can see the time well,
Recommended as a gift for your parents.
It is also used in nursing homes, nursing homes, hospitals, public facilities, etc. where there are many elderly people, and has been well received!





Product Details
Product name

Accent+ "mier mieru large clock"

size

Width: 605mm
Depth: 40mm
Height: 605cm

weight

1.4kg

Material

MDF cowhide other

compatible battery

AA x 1 (batteries included)

remarks

The mechanical part of the watch is the sweep movement.

guarantee

The warranty period is one year.
We will repair or replace parts free of charge if the product breaks down due to normal usage or environmental conditions.
If the stylus is damaged, we will replace it free of charge up to two times regardless of the warranty period.

Description of item

It is a wall clock that is easy to see even for those with weak eyesight or the elderly.
It is perfect for nursing homes, places where large numbers of people gather, shops, etc.
The stylish and calm atmosphere makes the room look elegant.
please note
*

Because it is handmade, there may be individual differences such as distortion of the needle, uneven coating, and uneven sticking.
Please enjoy it as a product's own personality.

*

Please note that moving the needle by hand may cause malfunction.

*

The time may be out of order if you use it in a place where the wind of the air conditioner hits. Thank you for your understanding.
Mieru 60 cm Large Clock, Wall Clock, Wall Clock, Wall Clock, Wall Clock, Wall Clock, Large, Giant Clock, Arabic Numerals, Cow Leather, Genuine Leather, Sweep Movement, Continuous Second Hand, Almost No Sound, Quiet, No Second Hand, Parents, Friends, Opening Celebration, Housewarming, Opening Celebration, Gift, Present, Gift Souvenir Living Dining Office Bedroom Children's Room Nursing Facility Nursing Home Company Hospital Beauty Salon Hair Salon Japanese Restaurant Shop Restaurant Japanese Room Simple Easy to See Modern Fashionable Brown Wood Grain Brown White White Silver Gold Large Letters Handmade Handmade Made in Japan Visible even with presbyopia and myopia