Regular price
Sale price
¥15,000
Unit price
per
Sale
Sold out
Usually ships in 1-2 business days (excluding weekends and holidays)
この商品をシェア
View full details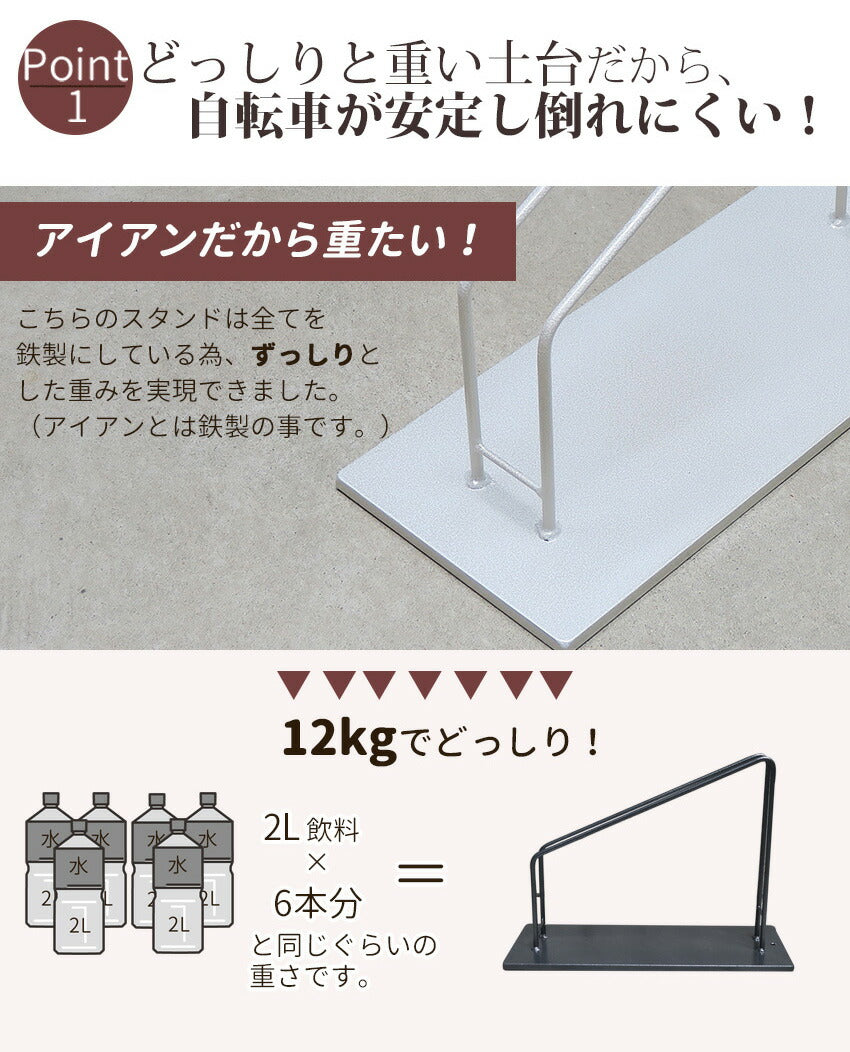 Iron bicycle stand smart X (for general vehicles)
The welded part (the part where the rod and plate are joined) has undergone a special rust-free process.
We are small, but we are working on the revival of Japanese manufacturing.
The production of a strong main body, the durable coating, and the sturdy cardboard packaging have all been developed by working together with local companies to improve and improve.
Please experience the high performance unique to Japan.


SMART-X series
Please choose by bicycle.
This item is part number [prsm0063]. You can move to each page by clicking.
▲▲▲It is a product on this product page. ▲▲▲
Product Details
size

Width: 22cm
Depth: 51.8cm
Height: 37.5cm

weight

about 12kg

Material

Iron (powder coating)

Country of origin

Japan
Please check before ordering
postage

Free shipping on this item.
※Hokkaido and remote islands are also free shipping.
*Additional shipping fee to Okinawa Prefecture is 2208 yen (tax included) .

deadline

If you have a desired date, please specify it in the remarks column when ordering.
Please contact us in advance if you are in a hurry.
*If you specify bank transfer, postal transfer, convenience store payment, or Pay-easy as your payment method, we will arrange shipping after payment is confirmed.
*Some items may be out of stock due to unavoidable circumstances. Please acknowledge it beforehand.

Precautions for use

*There is a possibility of overturning if the stand's holding capacity is exceeded due to strong winds. Please take this into consideration when installing.
* Because it is dangerous, please place it on a gentle flat surface without inclination when installing it.
* Bicycles with a high center of gravity, such as those with children's chairs, may tip over, so please check that they are stable after installation.
*In the case of electric bicycles , the size of the wheels and width of the vehicle is irregular, so please check the appropriate size before purchasing. In the unlikely event that incompatibility is found at the time of arrival, please do not force yourself to use it and feel free to contact us.

from the person in charge

All of our products are made with the help of local companies.
This product is finished with the highest quality, including the quality of the base iron plate, pretreatment before painting, welding level, and unique paint, so you can see the difference when you use it for a long time.
There are similar products on the market, but they may rust quickly due to low quality iron plates, simple welding and invisible parts.
We recommend this product that you can use for the rest of your life.
iron bicycle stand
Our store original "SMART X Bicycle Stand for 1" Bicycle Stand Outdoor Fashionable Bicycle Parking Stand Bicycle Rack Cycle Stand Wheel Stopper Bicycle Stopper Bicycle Fall Prevention Bicycle Parking Stand Iron Entrance Garden Garage Bicycle Parking Cycle Garage Bicycle Parking Space Bicycle Storage Shop Store Garage Beauty Salon Fashionable Stylish Simple, cool, luxury, white, white, ivory, antique color, compact, easy installation, finished product, heavy, made in Japan, display stand, bicycle, anchors, no anchors, cross bike, road bike Accent+ Accent Plus A+ Aplus A Plus Nagoya Interior Prism Eye Project prism i project Smart X Bicycle Stand Iron Bicycle Storage Bicycle Storage Bicycle Storage Bicycle Holder Bicycle Stand Bicycle Storage