Regular price
Sale price
¥15,000
Unit price
per
Sale
Sold out
Usually ships in 1-2 business days (excluding weekends and holidays)
この商品をシェア
View full details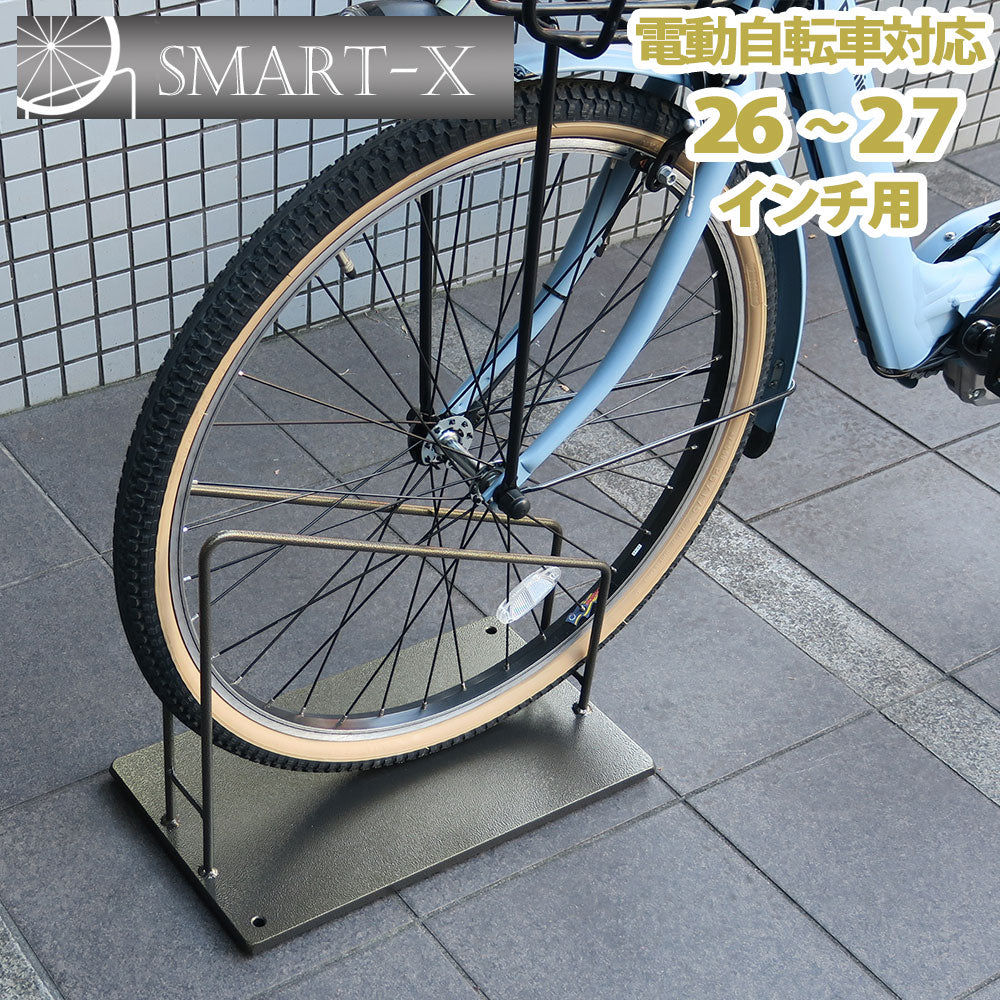 Electric bicycles weigh 25 to 30 kg, which is heavier than regular cars.
This is a bike stand that is wider than the normal model and has a sense of stability so that it does not fall over, which is expensive.

---
supported by the weight of iron
Other stands are lightweight or not fixed to the ground, but this one is made of iron and weighs 12 kg.
Because the weight can firmly support the front wheel, the sense of stability is amazing.
---
Specialized for horizontal sway
The width is wider than the conventional Smart X bicycle stand (part number: prsm0063) so that it does not fall over when a cross wind blows.
Still, it is 26 cm wide and slim and can be placed neatly.
On the stand with heavy luggage on it.
Since it is a heavy stand that stabilizes the front wheel, even if you park the bicycle with shopping bags in the front basket, the steering wheel will not be taken off.
When parking a bicycle with a child seat.
Among electric bicycles, the one with a child chair is very heavy, and the impact is large if it falls over.
With this stand, you can safely park your bike outdoors.
For those who park their bike next to their car.
If you put your bicycle next to your car and it falls over due to wind or impact, the car will be damaged and the shock and expense will be great. Prevent this before it happens.
When you want to arrange multiple bicycles.
The Smart X series comes in a wide variety of sizes, large, medium and small, and the stand can be moved, so you can arrange them freely.
Multiple bicycles can be freely arranged according to the size, number of bicycles, and shape of the garage.

The welded part (the part where the rod and plate are joined) has undergone a special rust-free process.

We are small, but we are working on the revival of Japanese manufacturing.
The production of a strong main body, the durable coating, and the sturdy cardboard packaging have all been developed by working together with local companies to improve and improve.
Please experience the high performance unique to Japan.


---
SMART-X series
Please choose by bicycle.
This item is part number [prsm0093]. You can move to each page by clicking.
▲▲▲It is a product on this product page. ▲▲▲
Product Details
size

Width: 26cm
Depth: 45cm
Height: 38cm

weight

about 12kg

Material

Iron (powder coating)

Country of origin

Japan
iron bike stand for electric bike
Mamachari Adult Bicycle, Large Cycle Stand, Wheel Chock, Bicycle Parking Stand, Garden, Cycle Garage, Bicycle Parking Space, Shop, Beauty Salon, Stylish, Simple, Cool, Luxurious, Ivory, Antique Color, Easy Installation, Display Stand, No Anchor Required, Slim, so 2 units can be used for 2 units. Recommended as a place for 3 cars or 4 places for 4 cars Nagoya Interior Prism Eye Project prism i project Smart X Bicycle storage Bicycle storage Bicycle storage Bicycle holder Bicycle stand Bicycle storage