Regular price
Sale price
¥18,000
Unit price
per
Sale
Sold out
Usually ships in 2-3 business days (excluding weekends and holidays)
この商品をシェア
View full details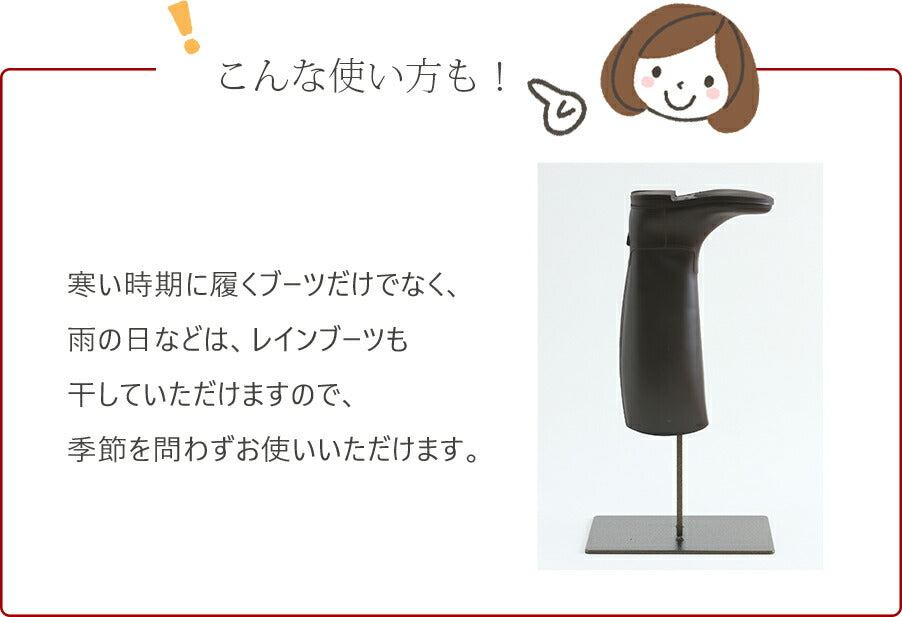 Product number: prsm0100
I charm stylish boots neatly forever!
It can be stored while drying the boots, so it is also a countermeasure against odors and is gentle on the boots. !
You can dry your boots at the entrance!

When it comes to drying your shoes, you might think of drying them outdoors, but this is a boot stand that allows you to dry them at the entrance .

You can dry it at the entrance, so there is no trouble at all. Take off your boots, put them on the stand and you're done!
It's not just drying! You can also deodorize!
You can dry your boots while deodorizing, so you don't have to worry about odors.
The next day, you can comfortably wear your boots.
Fashionable and durable iron



Because it is made of iron, it creates a stylish atmosphere even when the boots are not drying.

The form is unfamiliar, so it will accent your entryway like an object .































An iron boot stand made by our original "Accent+".
Not only can you dry and store your boots, but it also comes with a deodorant holder, so you can deodorize while drying.
The next day, the boots will be clean and deodorized, so you can wear them comfortably.
In addition, the slim stand makes your entryway look neat and stylish.

Product Details
| | |
| --- | --- |
| size | [Stand] (Approx.) Width 250 x Depth 330 x Height 600 (mm) |
| Material | Iron (powder coating) |
| Country of origin | Japan |
please note
*Because it is handmade, there may be some individual differences in size and appearance.
*Because it is natural leather, there may be some wrinkles and scratches.
Iron Boot Stand Bottom Plate
Boot Storage Boot Stand Boot Holder Boot Keeper Upside Down Storage Entrance Storage Fashionable Iron Made in Japan Durable Iron Deodorizes Boots While Drying + Can Be Stored Boot Holder Boot Hanger Boots Drying Elegant Elegant Leather Cap Simple Bronze White Black Finished Product Deodorizes While Drying Boots + Storable "Iron Boot Stand Bottom Plate" Entrance Storage Fashionable Fashionable Iron Made in Japan Durable Sturdy Boot Holder Boot Hanger Drying Boots Elegant Elegant Leather Cap Simple Cool Stylish Bronze Completed Boot Rack Boot Drying Fashionable Fashionable Iron Made in Japan Durable Boot Holder Elegant Brown Boot Rack Handmade Dry Dry Dry Sweat Smell Deodorant Cool Long Lasting Handmade Deodorant Stylish Iron Made in Japan Durable Sturdy Boot Holder Boot Rack Boot Drying Elegant Elegant Leather Entrance Simple Cool Boot Rack Boot Drying Stylish Fashionable Iron Made in Japan Made in durable boot holder elegant elegant leather brown boot rack handmade dry dry dry sweat smell deodorant stylish bronze brown rack dry boot storage sweat sweat moisture foot odor leg odor sturdy durable long lasting dry boot storage sweat sweat moisture foot odor Smell of Legs Sturdy Handmade Handmade Made in Japan Accent+ Accent Plus A+ Aplus Nagoya Interior Prism Eye Project prism i project Stivalistand Stivalistand Finished Product White Black Brown Shoe Rack Boots In