Regular price
Sale price
¥9,000
Unit price
per
Sale
Sold out
Usually ships in 2-3 business days (excluding weekends and holidays)
この商品をシェア
View full details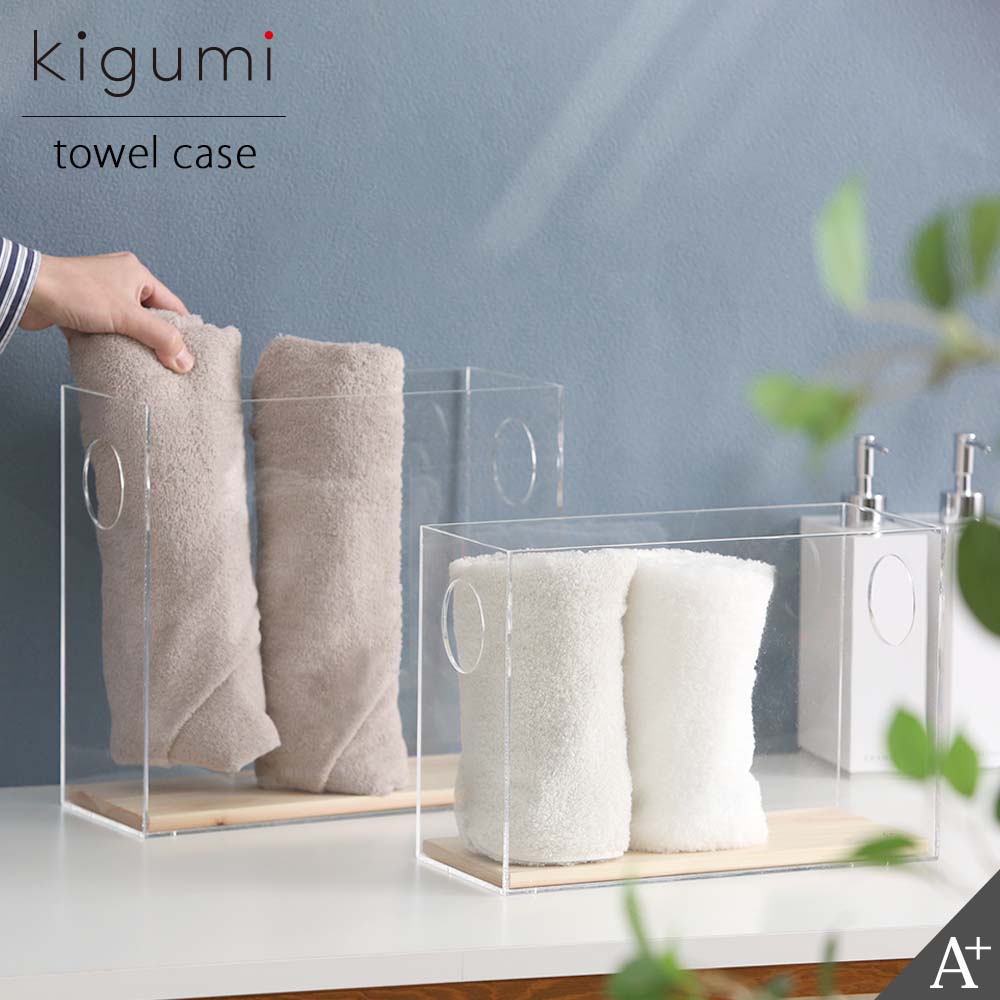 Easy to take out, easy to put away,
Ideal towel storage.
An acrylic case where you can stand up and store towels with beautiful acrylic and cypress.
Vertical storage not only has many benefits, but it also allows you to neatly store towels that are easy to feel and create a stylish space.
Would you like to make a comfortable towel storage that makes you feel beautiful and comfortable every day?
Bulky towels are difficult to store neatly.
Stacked towels can collapse every time you take them out.
In such a case, by storing it upright in a towel case, you can quickly take it out when you want to use it, and it can be stored compactly.
Even small spaces can be used effectively.
The towels underneath the pile are crushed and the air between the fibers escapes, not only does the towel lose its fluffiness, but it also wears out faster.
The new design, which uses acrylic and natural wood, expresses a sense of cleanliness and luxury, and does not make you feel like you are living at all.
You can create a clean space just by putting towels that are easy to use in your life.
Uses highly transparent acrylic. The light reflected on the acrylic surface not only makes the place where it is placed look stylish, but also creates a sense of cleanliness and beauty.
Natural Japanese cypress is used for the bottom plate.
Each carefully crafted part is hand-finished by Japanese craftsmen with beautiful details.
You can feel the warmth of people, and it is an eco-friendly product that can contribute to the SDGs in consideration of Japan's forest environment.

Comes with a round handle that is convenient for carrying and moving around.
A simple and stylish towel case that is not only functional but also highly designed.
A towel that you use many times a day, such as when washing your face in the morning, wiping your hands, or after taking a bath.

Many people may be worried about storing bulky towels in the space next to the bathroom where storage space is limited or in the washroom.

With kigumi's towel case, you can not only neatly store towels that make you feel like you're living, but also make them easy to take out and give them a stylish look.

I would be happy if I could help make your life more comfortable with a well-organized towel storage every day.

Product Details
Product name

kigumi "towel case"

size

High: W13.5 x H29.5 x D32 (cm) Low: W13.5 x H22.3 x D32 (cm)

weight

High: 1.28kgLow: 1.02kg

Material

Hinoki Acrylic Others

Country of origin

Japan