Regular price
Sale price
¥8,800
Unit price
per
Sale
Sold out
Usually ships in 2-3 business days (excluding weekends and holidays)
この商品をシェア
View full details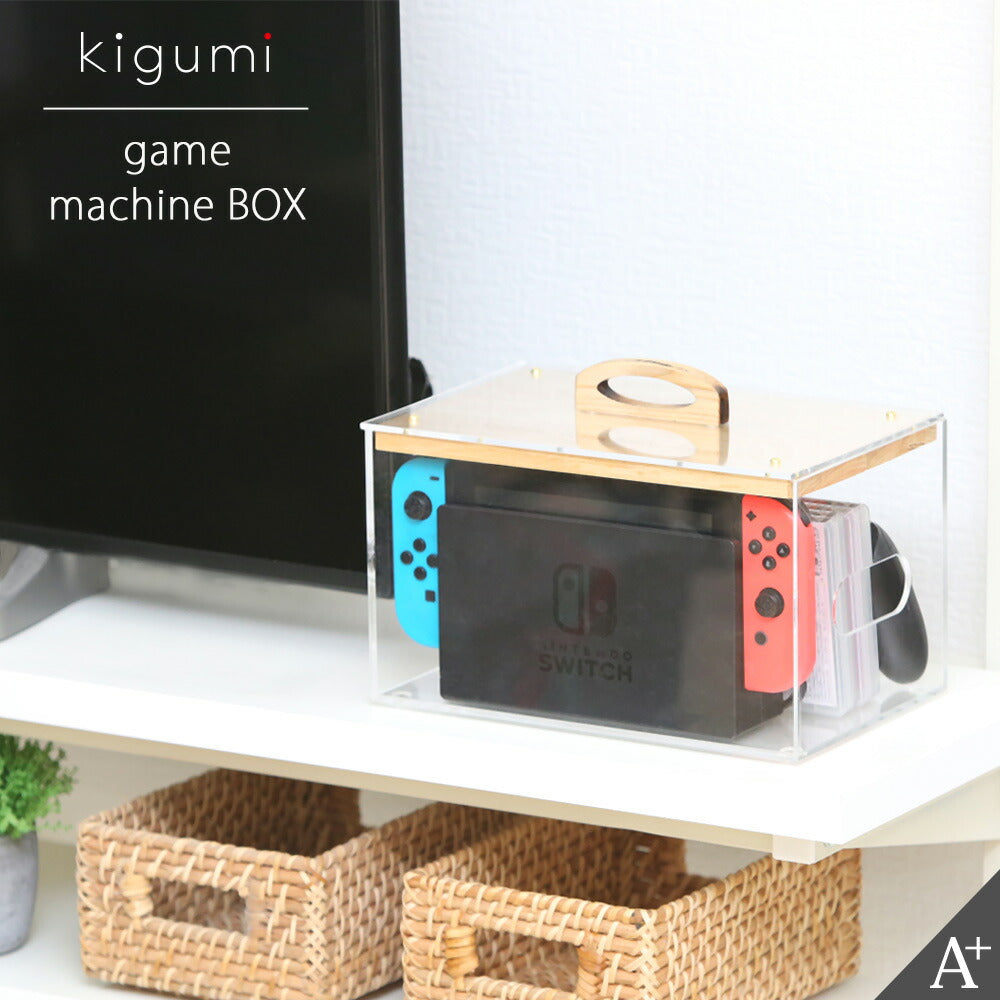 No more mess!
The habit of tidying up after playing.
An acrylic storage box that can store the whole switch while charging the dock of the switch that is left in the room.
The room can be neatly stored together compactly!
Because it is a simple box type, it is easy to put in and take out, and it will be easier for children to get into the habit of tidying up.
The simple acrylic box designed from a child's perspective is sized to fit not only the dock and switch itself, but also the soft case and controller accessories.
It's a box that's easy for children to clean up, and the lid has a handle that's easy to open and close, so you can easily store everything after playing games.
If there is a box around the game machine that tends to be messy, it seems that it will become a habit for children to clean up.
A highly transparent and beautiful acrylic box stores neatly while eliminating the feeling of life such as game consoles. In addition, the natural cypress lid has a stylish engraving that gives it a warm impression.
The simple design blends stylishly into any interior, and it seems that it will play a role as a nice accent in your room just by putting it on.
The box uses highly transparent acrylic. The light reflected on the acrylic surface can make the place where it is placed shine even more beautifully.
The lid is made of natural Japanese cypress. Each carefully crafted lid is hand-finished by a Japanese craftsman with beautiful details.
You can feel the warmth of people, and it is an eco-friendly product that can contribute to the SDGs in consideration of Japan's forest environment.
A game machine is a precision machine, and even if you use it on a regular basis, the dust that accumulates before you know it can trigger malfunctions and other problems.
By putting it in a case with a lid, you can protect it from dust and dirt and store it carefully.
Furthermore, by putting it in a case, the stability of the dock is increased, and the worry of falling or being scratched due to some impact is reduced.
A game machine box that can be placed cutely and stylishly in the interior of the room, while having a simple design that focuses on ease of use for children.

It was devised by moms who wanted to help their children with their tidying habits.

Until now, the area around the game console, which used to be a mess, can be cleaned up by children, reducing the hassle of cleaning.

We hope that this game machine box will be a strong ally for children's tidying up habits.
Product Details
Product name

kigumi "Game Machine Box"

size

Width: 25cm
Depth: 16cm
Height: 18cm
Inside dimensions of the box: about width 24 x depth 15 x height 13 (height to enter the box)

Material

acrylic, cypress, etc.

Country of origin

Japan

Relation

Simple Luxury Luxury Beautiful Beautiful Stylish Cute Cute Nordic Cool Classic High Quality Transparent Clear Clear Finished Product Made in Japan Domestic Japan Living Nursery Children's Room Kids Room Kids Children Elementary School Boys Boys Girls Girls Accent+ Accent Plus A+ Aplus A Plus Prism Eye Project prism iproject handmade made in japan